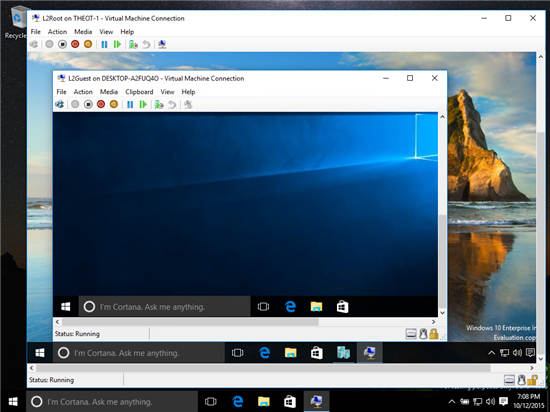 Hyper-V Nested Virtualization in Windows 10
Microsoft release the build 10565 last week for insiders on fast ring which contains a preview of nested virtualization. This allow you to install Hyper-V in a guest virtual machine and running other guest VM on this new Hypervisor. You can also run multiple Hyper-V server on the same physical machine. It's perfect for your demos and lab test !
Because it's a preview, there are some known issues :
Both hypervisors need to be the latest versions of Hyper-V on windows 10 build 10565. 
Dynamic memory must be OFF. This will prevent the VM from booting.
Runtime memory resize will fail.
Applying checkpoints to a running VM will fail.
VM which hosts other VMs cannot be live migrated.
Save/restore will fail.
Once nested virtualization is enabled in a VM, MAC spoofing must be enabled for networking to work in its guests.
Hosts with Virtualization Based Security (VBS) enabled cannot expose virtualization extensions to guests. You must first disable VBS in order to preview nested virtualization.
This feature is currently Intel-only. Intel VT-x is required.
You need at least 4 GB of host RAM.
For more details, visit this page.
Now let's get started :
1- Create a VM
2- Run the enablement script.
This script will check your configuration,and enable nested virtualization for a VM. The VM must be off.
Invoke-WebRequest https://raw.githubusercontent.com/Microsoft/Virtualization-Documentation/master/hyperv-tools/Nested/Enable-NestedVm.ps1 -OutFile ~/Enable-NestedVm.ps1
~/Enable-NestedVm.ps1 -VmName <VmName>
3- Install Hyper-V in the guest
Set-VMNetworkAdapter -VMName <VMName> -MacAddressSpoofing on
4- Option : Enable networking
Remember, MAC Spoofing must be enabled once nested virtualization is enabled.
Run this command on the host as an administrator to enable networking :
Set-VMNetworkAdapter -VMName"VName"-MacAddressSpoofing on
5- Create nested VMs !